THE SCRAPBOOKER'S CREATIVITY KIT
The Scrapbooker's Creativity Kit provides a unique and exciting way to be inspired! Inside the kit, you will find inspiration cards sorted by color and word along with a companion book. These cards are starting points for creating layouts that will help you to think beyond the obvious. Included are selections of artwork from myself and a group of contributing artists (such as Donna Downey and Rhonna Farrer) in which each piece was created using the same combination of colors and words. The multiple interpretations show how the cards can be mixed and matched to create numerous layouts! The Scrapbooker's Creativity Kit is in stores NOW!
Check your local crafting, arts supply or book stores for availability. Or order a copy from Amazon.com right now!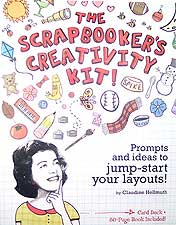 SCROLL DOWN TO SEE INSIDE!