COLLAGE DISCOVERY WORKSHOP - MY FIRST BOOK
Collage Discovery Workshop was released in 2003. It is currently in it's 5th printing and has sold over 45,000 copies.
"I hope that by reading this book and using some my of 'tricks of the trade', the readers' will fall in love with working in collage as I have. I'll help them discover background techniques, to get their artwork started. We'll do image transfer techniques, beeswax collage and a variety of other methods to get them on their way to working in mixed media collage. Most importantly, I have a section on composition with easy to understand tips to create successful artworks. Even someone who's never done collage before will feel like a pro!"
Collage Discovery Workshop is in stores right now!
Check your local crafting, arts supply or book stores for availability. Or order a copy from Amazon.com right now!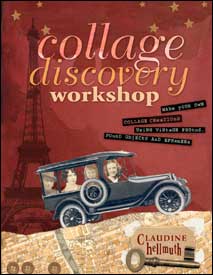 SCROLL DOWN TO SEE INSIDE!