SITTING PRETTY POPPETS®
Sitting Pretty Poppets® are personalized photo sculptures created to display on your mantel, bookcase or desktop. These original 3-d artworks are created from flexible metal, paper and fabric. Each "adult" figure is approx, 18" tall when laying flat. The Sitting Pretty figures are bent at the "legs" and "knees" so they are "sitting" -- makes a perfect mantle decoration! Let me know what fabrics or colors you would like and you'll have a very unique and whimsical way to enjoy your family photos! Can also be made into a decorative Christmas stocking holder!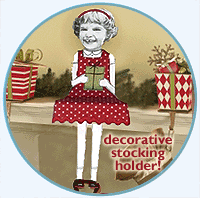 WHAT DOES IT COST?
Each Sitting Pretty photo sculpture is $75 + shipping. Pets are $35 each. The figures are dark brown on the reverse. Add $5 for coordinating fabric backing.
HOW DO I GET STARTED?
It's easy! Just fill out a custom Sitting Pretty Poppet® request form and I will get back to you right away with directions for submitting your photos & payment. Turn around time is approx 3-4 weeks, so please keep that in mind if ordering gifts. When you place your order I will let you know when you can expect your finished artwork to arrive. Please email me if you have any questions at all!